Life is tough right? We all can use a little extra cash! In this guide, I'm gonna teach you, 20+ real practical methods to make money from your phone!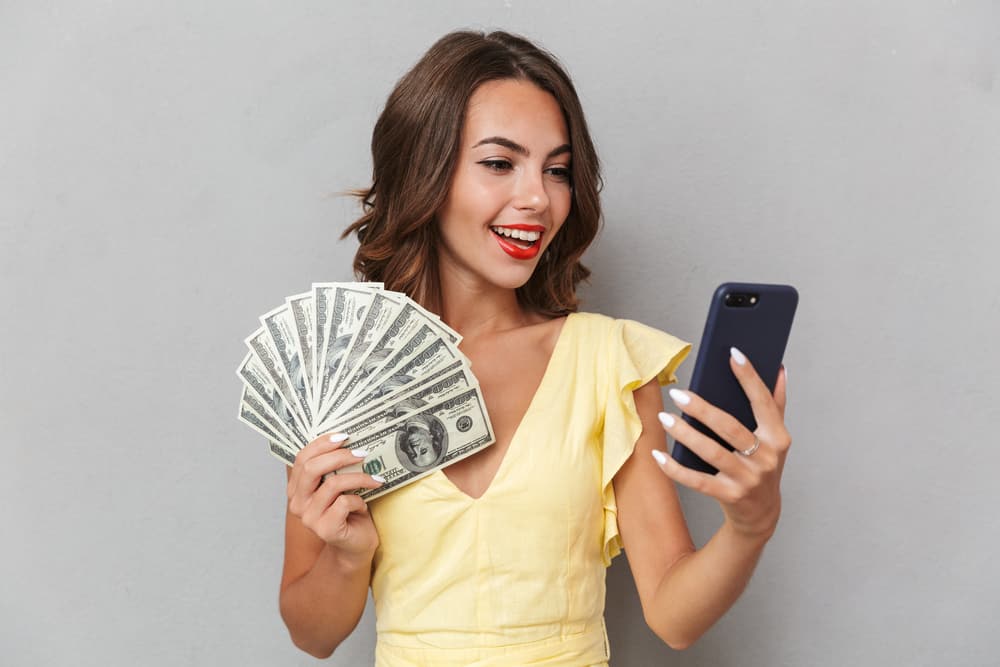 Making money on your phone has become easier in 2023. And since many of us spend so much time scrolling up and down, you can use those fingertips and turn them into ways to make money from your phone.
The good news is that there are several legitimate free apps that offer a fun way to earn real money from the comfort of your home using your phone.
In this article, we'll go through some of the top ways to make money from your phone and how to get started.
Let's get into it.
How to Make Money on Your Phone?
There are various apps that offer opportunities to make quick money or receive gift cards and prizes, such as gig apps or survey apps on your phone. Whether you have a few minutes or a couple of hours, you can explore these options to boost your income.
22 Best Ways to Make Money from Your Phone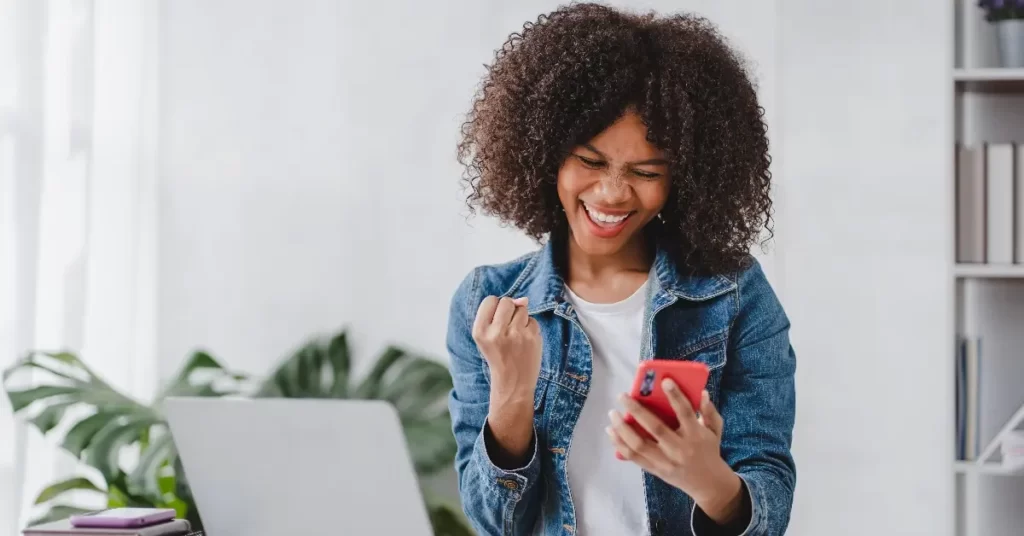 1. Playing Online Games
Playing games on your phone and getting paid for it might sound too good to be true, but it's real! Some popular apps actually reward you for playing games on your smart phone.
If you enjoy fast-paced games, try Bingo Cash! Challenge other players in free or paid matches and win real cash prizes. Each 2-minute game is fair, as all opponents play with the same card. Get the highest score to win and cash out securely via PayPal.
Play Solitaire Cash on your phone and compete with players worldwide. Download the free app for fair matches using the same deck. Challenge yourself in solo mode or join tournaments to win cash prizes!
Enjoy Bubble Cash, a thrilling strategy game! Pop bubbles in this addictive mobile game. Download for free on iOS or Samsung, and compete in skill-based tournaments against other players. Earn gems from free games and use them for cash tournaments or deposits. Get in the Top 3 to win real cash prizes!
Take a look at Gamehag for some fun with free online games. Plus, you can collect Soul Gems (SG) – these amulets were created by the Coven Council to protect the hags from extinction.
By completing specific tasks, you'll earn SG that you can exchange for awesome rewards like free Robux, Steam Wallet, Prepaid Mastercard, and more!
Oh, and don't forget, Gamehag has a cool friend referral program that rewards you with SG when you invite your pals!
2. Use an Investment App
You're on the lookout for some extra cash right, that's great! But how about we also think about the future while you make money from your phone?
I've got some fantastic investment apps to share with you. Not only can they help you make money from your phone right now, but they also grow your value as you get older. It's a win-win!
Let's explore a few of the top investment apps together:
Three awesome investment apps:
Betterment: Take control of your finances. Set goals, create a customized investment plan, and automate monthly deposits.
Acorns: Start investing effortlessly. Round up purchases and invest the spare change. Earn extra cash from select partners.
Robinhood: Access complex investments. Trade stocks and funds, invest for as little as $1 with "fractional shares."
3. Watching Videos for Extra Cash
If you have a few minutes to spare, why not make some extra money by watching videos? Free apps like Swagbucks, ClipClaps, and FusionCash offer rewards and bonus points that can be redeemed for cash and gift cards. It's an easy and fun way to make money from your phone while enjoying videos!
It's one of the best apps out there for doing simple tasks like watching videos, playing games, and making online purchases. Plus, it's available for both Apple and Android devices, so everyone can join in on the fun! The best part is, you get paid in real cash, not points. And guess what?
As a special welcome gift, new users get a cool $5 sign-up bonus! How awesome is that? Don't miss out on this fantastic opportunity!
If you're looking for a fun and less risky way to make some money from your phone, Swagbucks is the answer! You can earn points by watching entertaining videos, completing surveys, and even shopping online. The more points you collect, the more rewards you can get! You can redeem them for PayPal cash, Amazon gift cards, or choose from a variety of gift cards from your favorite major retailers.
Plus, here's a sweet deal: Get a fantastic $5 bonus just for signing up with Swagbucks!
You may have heard about surveys before. While they may not be the highest paying method to make money from your phone, they can be a good option when you're at home, commuting, or waiting in line.
Here are a few popular survey apps to consider.
InboxDollars
The InboxDollars app rewards you for surveys, watching videos, playing games, and reading emails. You can earn cash and receive coupons and cashback for online shopping.
At Survey Junkie, you can earn rewards by answering survey questions and sharing web browsing data. Get points for surveys and data, redeemable for gift cards or cash.
5. Earn Cash Back
Guess what? Many big retailers have these super cool cashback deals when you use apps like Rakuten, BeFrugal, Drop, and others. It's so easy! Just download the app, make an account, and shop online like you always do.
You know what's even better? The app gives you some cashback on each purchase – how awesome is that? And the best part is, these apps are totally free and a fantastic way to save some cash while you shop. Oh, and don't forget, there are other apps like Ibotta that'll even give you cash back for both in-person and online shopping.
6. Sell Your Data
Nielsen is this awesome global market research firm that's all about understanding consumer trends.
Want to know a cool way to make money with Nielsen? Just hop on board with their Computer and Mobile Panel service.
It's super easy! Sign up, get the app on all your registered devices, and use the internet as you usually do. The app does its thing silently in the background, gathering your internet and mobile usage data, which then goes back to Nielsen and gets shared with their clients.
And guess what? You start earning right away after downloading and installing the app.
7. Sell Your Old Stuff
Got some stuff you don't need anymore? No worries, there are awesome mobile apps that can help you sell them and make some extra cash. Let's check out a few!
First up is Decluttr. It's perfect for selling tech and media like cell phones, games, DVDs, CDs, and books. Plus, they offer free shipping on all orders and speedy next-day payments for what you sell. How cool is that? Oh, and here's a neat feature: just scan an item's barcode, and you'll get an instant estimate of its value.
Next, we have Poshmark. List your items for sale, and they'll take care of the postage. You can even have a party with your friends and list similar items together. Listing is free, but there's a small fee when you make a sale – $2.95 for items under $15 and 20% for items above $15.
8. Sell Photos and Videos for Extra Money
Did you know there are some amazing apps that'll pay you for your awesome photos and videos?
It's true!
Check out Foap, Snapwire, and EyeEm – they're fantastic options to explore. Just upload your photos right from your cell phone and make them available in their marketplace.
And here's the best part – every time your photos or videos sell to agencies and buyers, these apps offer you a percentage of the earnings. How cool is that? Get out there and showcase your talent while earning some extra bucks!
9. Participate in User Testing
How about getting paid for leaving reviews on products and helping brands improve their goodies?
It's super simple, visit UserTesting and just make sure you're fluent in English as you'll be giving verbal feedback through a microphone. No worries, you can do the tests on either a computer or a mobile device.
The best part? Each test takes just about 20 minutes of your time, so you can work from anywhere, at your convenience. And guess what? Your earnings will vary based on the test type, but don't worry, your dashboard will always show you the payment amount before you decide to participate.
10. Trade-in Your Old Stuff on Amazon
I've got another cool way for you to make money from your phone, and it's all about selling stuff you don't need anymore. This option may not give you cash, but it's pretty awesome because you can earn gift cards!
So, here's the deal: Amazon has this fantastic trade-in program where you can send in tech items like Amazon Devices, video games, phones, accessories, and more.
And guess what? If your item is eligible, you'll get an immediate offer for an Amazon gift card or a promotional credit that you can use to get a new device.
The best part is, there are absolutely no fees involved, and Amazon takes care of all the shipping costs by providing you with a free shipping label.
12. Sell Old Textbooks
Oh, the joy of finishing a college semester and realizing you'll never have to deal with that textbook again! And guess what? You can even sell it online for some extra cash.
Let me introduce you to BookScouter, this awesome app that can make it all happen. It's super simple – just download the free app, browse through over thirty buyback vendors, and compare prices and seller feedback. Once you've found the perfect match, ship the item for free, and they'll pay you. Easy peasy!
Why let your textbooks gather dust on the bookshelf or end up in the trash when you can make some good money from them?
13. Get Paid for Walking
You know, many of us walk quite a bit already – could be walking our adorable dogs or just commuting to work.
But wait, there's something cool I want to tell you about! Check out Sweatcoin – it's this nifty app that turns every step you take into "sweat coins." How awesome is that? Although you can't withdraw the coins to your bank account, you can totally save and convert them into some fantastic goods and services.
And the best part? The rewards are pretty sweet – you can get everything from audiobooks and athletic wear to headphones and technology. So, get moving, start earning those sweat coins, and treat yourself to some awesome rewards!
14. Utilize Gig Apps
I've got some awesome gig apps to share with you – Steady, TaskRabbit, and Gigwalk. These apps are all about connecting you with people in your community who need a helping hand with various household tasks.
It's super easy! Just download the TaskRabbit app, set up your profile, and start applying for jobs in your local area. You'll be surprised at the wide range of tasks you can do, like fixing fences, painting walls, mowing lawns, and more. And guess what? You'll get paid for completing the jobs, and the app even lets you receive reviews for a smooth and hassle-free experience.
Looking for gig jobs can be really fun, and it can lead to a steady flow of work if you're ready to put in some effort. Plus, it's an excellent option if you live in a bustling metropolitan area with lots of users. So go ahead, join the gig economy, and have a blast while earning some extra cash.
15. Use Mystery Shopping Apps
Have you ever tried using a mystery shopping app? There are awesome ones like FieldAgent and GigWalk that you can check out.
Here's how it works – as a user, you'll get notifications about different brands where you can go shopping. Afterward, you simply report back about your experience. And the best part? You get a small payment for each mystery shopping adventure you complete.
It's such a fun way to earn some money on the side and can be a fantastic option for supplementing your income. So why not give it a try and have some fun while making extra bucks?
16. Run a Shopify Store From Your Phone
You can totally run your own ecommerce store right from the convenience of your phone!
Yup, it's true! Shopify has this amazing mobile app that gives you access to everything you need to manage your store on the go.
With the Shopify app, you can do so much – add products, manage inventory, fulfill orders, compare sales channels, connect with customers, and even keep track of your revenue levels.
Now, you might need to set up your store on a desktop initially, but once it's up and running, the Shopify mobile app becomes your ultimate tool for running your store day-to-day while you're out and about.
How cool is that? Get ready to embrace the world of mobile ecommerce and start managing your store from the palm of your hand.
17. Manage Social Media
Did you know that some awesome companies actually pay people to handle their social media accounts? How cool is that!
If you're good with your phone, you can totally do this from wherever you are. You get to tweet, update Facebook, and interact with customers whenever they reach out. It's like being the voice of a company, and that's pretty amazing, right?
All sorts of companies, especially small businesses, need assistance with their social media profiles, and that's where someone like you comes in!
If this sounds intriguing, why not start looking for social media jobs on a fantastic app like FlexJobs.
18. Become a language tutor
You know there are some fantastic on-demand language services out there, like TutorJob? You can totally use your phone to tutor others in the languages you know. How awesome is that?
The best part is, you get to set your own hours for lessons, so it's super flexible! And after teaching your students, you'll get paid for your valuable time and effort. It's a straightforward and easy process to earn while doing something you love!
19. Affiliate Marketing via Social Media
Affiliate marketing is the way to go if you want to make some money! With the rise of social media influencers and bloggers, it's become a fantastic opportunity.
You can promote products and services through your social media accounts or blogs using special affiliate links. And here's the best part – you earn commissions for every sale that happens through your link.
There are awesome apps like Amazon Associates, ShareASale, and CJ Affiliate that offer mobile versions, so you can easily track your earnings and performance on the go. Stay consistent in creating content and providing genuine recommendations, and you'll see your affiliate income grow over time.
20. Share Your Opinion
Companies value what you think, and they're willing to pay for it! You can easily earn money from your phone by taking online surveys or joining focus groups to share your feedback on products and services.
Check out these awesome apps that offer unique opportunities:
Avatar Community: Become a member of the Facebook Avatar Feedback Community and have your say about avatars and virtual reality. Not only will you get to shape the future of avatars, but you'll also earn money while doing it! The more you contribute, the more you can earn and redeem.
Toluna Influencers: As a member of Toluna Influencers, you have the power to influence the products and services that matter to you. While you might not get rich from it, giving feedback can be fun, and you can earn rewards like PayPal payouts or gift cards. Plus, you get 500 welcome points just for joining!
So, why not give it a try? Join these communities, share your thoughts, and start earning some extra cash today!
21. Rent Out Your Stuff
Got some extra space at home you're not using? Planning a move or a nice long vacation? Well, I've got great news for you! Renting out your real estate, spare room, or even your car can be an awesome way to create an extra income stream.
These days, more and more people are loving the idea of C2C (consumer-to-consumer) web services. Instead of going for expensive hotels and rental cars, they prefer renting transportation and space from real people like you, rather than big corporations. So why not give it a shot and get paid for it?
Check out these cool apps that can help you get started:
You can list your home, vacation home, or in-law suite on Airbnb and earn some serious cash! On average, hosts make over $13,800 per year. Just remember, taking great photos of your space is key to success on Airbnb. Show off your space in the best light possible! Also, create a detailed and accurate listing with all the info guests will need to know. And once your listing is live, don't forget to promote it on social media to attract even more guests.
So, go ahead and give it a try! Renting your stuff can be a fun and rewarding way to make some extra money.
22. Earn While Protecting the Environment
Check out Cleanspace, it's a fantastic app that rewards you with freebies and discounts for protecting yourself and the environment!
Here's how it works: You'll use the Cleanspace tag, a cool tool that connects to your phone via Bluetooth and keeps an eye on the carbon monoxide levels around you.
Now, the best part – for every mile you run, cycle, walk, or simply avoid contributing to pollution, the app will shower you with freebies and discounts! It's like magic! Plus, the app is smart enough to figure out how you're getting around just by checking your surroundings. How neat is that?
So, let's team up to make the world greener and earn some awesome rewards along the way. Give it a try and enjoy the benefits of being kind to yourself and the planet!
50 Best Apps To Make Money From Your Phone
Today, 44% of Americans pursue side hustles to boost their income. If you face challenges like irregular work schedules or childcare, making extra money during your free time using your phone is a viable option.
Various mobile apps offer opportunities to earn additional cash. While it may not yield significant earnings, dedicating time each week can lead to a decent side income.
1. Swagbucks ($10 Bonus): Earn rewards by taking surveys and completing various tasks on this popular market research app.
2. Survey Junkie: Get paid for sharing your opinions and completing surveys.
3. MyPoints ($5 Bonus): Earn points for surveys, watching videos, and shopping, and redeem them for cash or gift cards.
4. Branded Surveys ($1 Bonus): Participate in surveys and get paid through PayPal or gift cards.
5. InboxDollars ($5 Bonus): Make money by taking surveys, watching videos, and reading emails.
6. ySense: Get rewarded for completing surveys and other simple tasks.
7. KashKick: Earn money by completing surveys, watching videos, and more.
8. Rakuten Insight: Participate in market research surveys and earn rewards.
9. LifePoints: Share your opinions through surveys and earn rewards.
Shopping Rewards Apps
10. Rakuten ($10 Bonus): Get cash back and discounts for shopping online with this app.
11. Capital One Shopping: Save money on online purchases with coupons and price comparisons.
12. Ibotta ($10 Bonus): Earn cash back on groceries and other purchases by scanning receipts.
13. Drop: Get rewards for shopping at your favorite stores through this cash-back app.
<h3>Video Game and Gaming Apps</h3>
14. Rewarded Play: Earn gift cards by playing games and watching videos.
15. Mistplay: Play games and earn gift cards for popular gaming platforms.
16. Blackout Bingo: Play bingo and win real money.
17. Bingo Cash ($5 Bonus): Play bingo games and get paid through PayPal.
18. Bingo Tour: Play bingo and earn rewards.
19. Bubble Cube 2: Play bubble shooter games and earn cash.
20. Dominoes Gold: Play dominoes and win real money.
21. Pool Payday: Play pool games and earn cash.
22. 21 Blitz: Play card games and earn money.
23. Solitaire Cube: Play solitaire games for cash prizes.
24. Solitaire Cash ($5 Bonus): Earn money by playing solitaire games.
25. Solitaire Clash: Compete in solitaire tournaments and win cash.
26. Big Buck Hunter: Marksman: Shoot virtual deer and earn rewards.
27. WorldWinner (Free Bonus Bucks): Play skill-based games and win cash prizes.
Cash-Back Apps
28. GoCashBack ($8 Bonus): Get cash back on your online purchases.
29. Upside: Save money on gas by earning cash back.
30. Dosh: Earn automatic cash back at participating retailers.
31. Samsung Wallet: Get cash back on Samsung purchases.
Banking and Investing Apps
32. Plynk ($60 Bonus): Receive a bonus for opening a banking account with Plynk.
33. Fundrise: Invest in real estate with this investment app.
34. Acorns: Invest your spare change and grow your savings.
35. Robinhood ($5-$200 Bonus): Get a bonus for signing up and start investing in stocks.
36. Webull ($52-$36,000 Bonus): Receive a bonus when you sign up and start trading stocks.
Passive Income Apps
37. Public.com: Invest in fractional shares and earn rewards for referring friends.
38. Honeygain: Earn passive income by sharing your internet connection.
39. Premier Opinion: Earn rewards by participating in market research studies.
Gig Economy Apps
40. Etsy: Sell handmade or vintage items online through this marketplace.
41. Uber (Varying Bonuses): Earn money by driving for Uber.
42. Lyft (Varying Bonuses): Make money as a Lyft driver.
43. Uber Eats (Varying Bonuses): Deliver food and earn money.
44. Rover: Earn money as a pet sitter or dog walker.
45. Instacart: Get paid for shopping and delivering groceries.
46. Doordash (Varying Bonuses): Deliver food with Doordash.
47. Airbnb: Rent out your property and earn money.
Money-Saving Apps
48. Rocket Money: Save money on recurring expenses with this app.
49. Trim: Save money on your bills by negotiating with service providers.
50. Earny: Get refunds on your online purchases if prices drop after your purchase.
Can you make real money on your phone?
Yes,there are some really simple and fun ways to earn extra cash or snag free gift cards. You can participate in online surveys or even play games to make some money. It's a win-win!
What should I do with gift cards?
Here are two fantastic options for you when it comes to those free gift cards!
Option one, you can treat those gift cards like pure cash at participating retailers. How awesome is that? Use them to shop for whatever you like and enjoy the freedom to pick your favorite items.
But if you're looking for some cold, hard cash instead, we've got option two for you! You can sell those unwanted gift cards using a super cool app like CardCash. They'll give you cash in exchange for your cards. It's an excellent way to put some extra money right in your pocket!
So, whether you prefer the gift cards' perks or the convenience of cash, the choice is yours!
Are these money-making methods legitimate?
Yes, the methods mentioned in this article are legitimate ways to make money from your phone. However, always exercise caution and be wary of scams or platforms that promise unrealistic earnings.
How much time do I need to invest to make money?
The amount of time you invest is entirely up to you. You can dedicate a few minutes each day or immerse yourself in these ventures during your free time. The more time and effort you put in, the more money you're likely to make.
Can I do these activities while traveling?
Absolutely! That's the beauty of making money from your phone. As long as you have an internet connection, you can work and earn money from virtually anywhere in the world.
Final Thoughts
Congratulations! You've now unlocked the secrets of making money from your phone. From selling your unwanted items and sharing your opinions to embracing the gig economy and making money with your photography skills, the opportunities are endless. Remember, success in mobile earning requires determination, creativity, and a willingness to explore new avenues.
So, the next time you reach for your phone, think beyond the usual social media scrolling, and turn it into a powerful tool for financial gain. Whether you're a student looking to earn some extra cash or a professional seeking additional income, these methods can help you achieve your financial goals.
Start small, experiment with different approaches, and don't forget to stay updated with new mobile earning opportunities that may arise. Happy mobile earning, and here's to a pocket full of cash and a future full of possibilities! Now go out there and make money from your phone like a pro!