In this guide, I will share my 18 GOLDEN Tips to Make Money with DoorDash in 2023. As DoorDash continues to soar in popularity, the opportunity for flexible income has never been greater. But don't settle for scraps! Did you know that savvy dashers can earn a whopping $20 per hour, far surpassing minimum wage?
Imagine having the keys to unlock the full potential of your DoorDash earnings. No longer will you be just another cog in the system, but rather a top player in the DoorDash game. With these insider tips, you'll learn how to maximize your payout and join the ranks of the most successful dashers out there.
So don't wait, take charge of your income and start earning like a pro today!
Where can you work as a Dasher?
The reach of DoorDash is truly remarkable, extending far beyond the borders of the United States. With a presence in over 4,000 cities across the country, as well as in Canada and Australia, the opportunities for flexible and lucrative work are endless.
Whether you're looking to make some extra cash in your hometown or seeking a new adventure in a city you're visiting, DoorDash has you covered. You have the freedom to choose where and when you want to deliver, making it the perfect gig for those looking for flexibility and control over their schedule. So why wait? Sign up today and start delivering with DoorDash!
What are the requirements for delivering with DoorDash?
Ready to join the ranks of DoorDash delivery heroes and conquer the road? Before you hit the pavement, let's make sure you have all the necessary qualifications to deliver with DoorDash.
First and foremost, you must be at least 18 years old and have a Social Security number. You'll also need a reliable mode of transportation, whether it's a car, motorcycle, scooter, or bicycle (options may vary depending on your location). If you choose to drive, don't forget to bring along a valid driver's license and insurance.
In addition, you must agree to undergo a background check and have a smartphone with the DoorDash app. Once you've checked off these requirements, you're ready to apply online and start the activation process. Whether it's attending an orientation or requesting an activation kit, DoorDash has you covered. And don't forget to download the DoorDash Driver app to complete your journey to delivery greatness!
You may also like: How to Make Money Delivering 2022: Earn $250 a Day
How to Make Money with DoorDash?
Ready to unleash your earning potential as a DoorDash driver? Here's everything you need to know about how the process works.
After a quick and easy application process (which usually takes three to seven days to be approved), simply set up your profile and open the Driver app to start viewing available deliveries. Each delivery opportunity will come with all the details you need to know, such as the location and payout. And with just 40 seconds to accept or reject a delivery, you can keep your schedule flexible and in control.
The work itself is simple – just follow the instructions in the app. That usually means traveling to the restaurant, picking up the order, and delivering it to the customer's location. And with a guaranteed base rate of anywhere from $2 to $10 (or more) per order, plus the potential for extra earnings from tips and promotions, you can earn a decent wage. On average, DoorDash drivers in the U.S. make just under $18 per hour, according to ZipRecruiter.
Keep in mind that being a DoorDash driver also involves some costs, such as gas, tolls, and vehicle maintenance. And as an independent contractor, you'll need to budget for taxes and insurance. DoorDash provides up to $1 million of liability insurance, but it only applies when there's an order in your car. Consider getting rideshare insurance for added protection.
Finally, the best part – you can start making money fast with DoorDash. According to the company, most drivers start earning within a few days of signing up. You have the option to get paid weekly by direct deposit, or use Fast Pay to transfer earnings to a debit card daily (for a $1.99 fee). And with DasherDirect, you can have your daily earnings deposited to a prepaid debit card with no fee.
18 Proven Tips to Make Money with DoorDash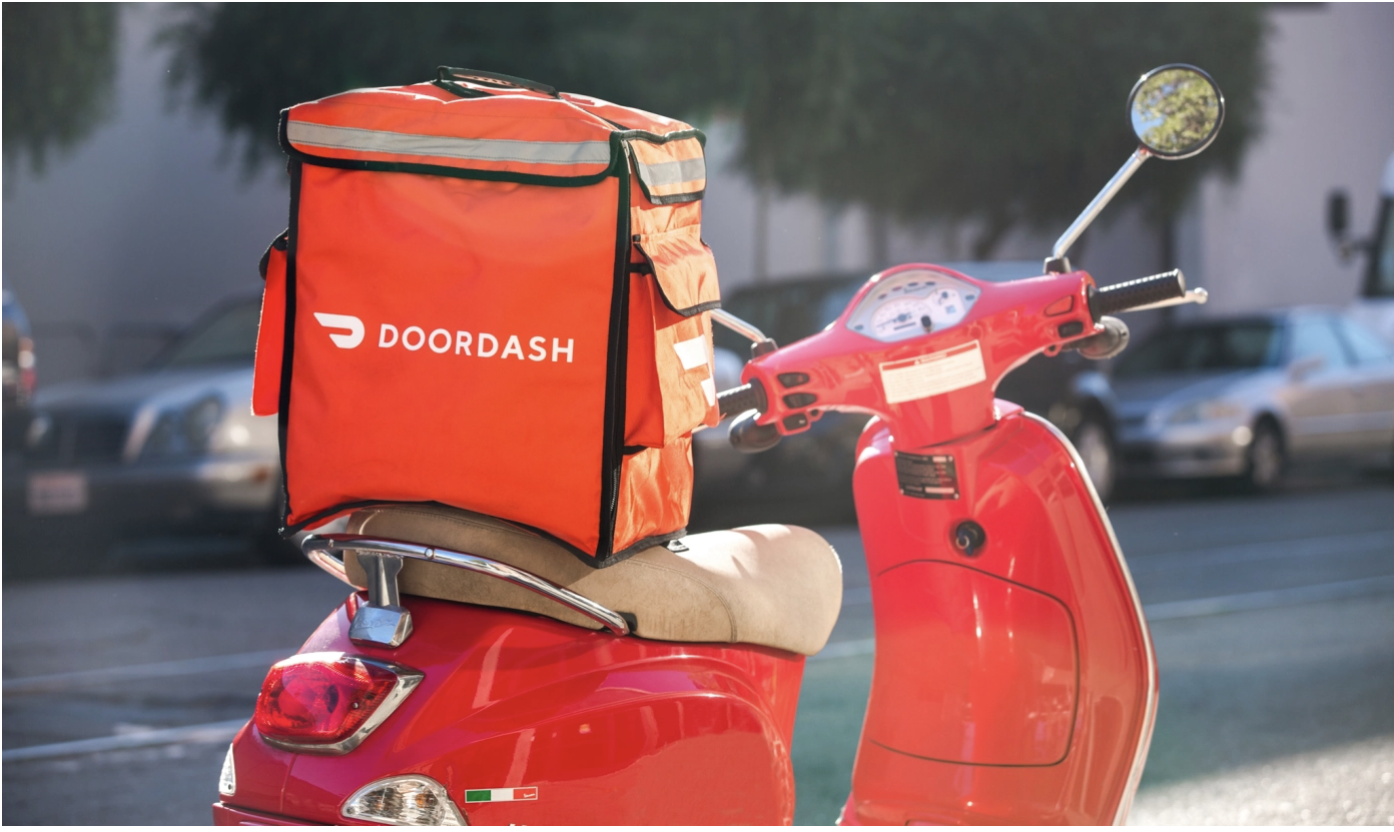 1. Maximize Your Earnings with Optimal Dash Hours.
Early birds, it's time to soar! Dashing from 6 AM to 9 AM can bring in high-paying orders without much competition. For lunch lovers, 11 AM to 1 PM is the time to dash. This short time slot packs a punch with busy restaurants and hungry customers. The dinner rush, from 5 PM to 9 PM, is the busiest time for food delivery.
Book these hours in advance for the best results. Late-night dashing is also a great option, with delivery workers often receiving higher tips from customers. Find your highest-paying time slots by testing different hours in your area. Happy dashing!
2. Get More Deliveries Per Hour.
Don't let inclement weather keep you from earning extra cash on DoorDash. While many people may stay indoors during extreme rain or snow, this is your chance to shine and increase your deliveries. The secret to getting more DoorDash orders is to be ready and willing to work in any weather conditions.
The low competition during rainy or snowy seasons means there is more opportunity for you to pick up extra deliveries. Plan your work schedule around the weather and take advantage of the surge in demand. Dress appropriately for the conditions and be prepared to hit the road when others stay in.
DoorDash offers incentives to encourage drivers to stay active and keep the food flowing. Keep an eye out for these bonuses and be ready to jump on them when they become available. You may need to sacrifice some of your free time, but the extra income will be worth it. So, gear up and embrace the elements for more DoorDash deliveries and profits.
3. Maximize Your Tax Deductions for Maximum Savings.
As a DoorDash delivery driver, you wear many hats – that of an independent contractor and a small business owner. And as a wise entrepreneur, you understand the importance of maximizing your tax write-offs. Every dollar you save on taxes is a dollar more in your pocket.
Consider all the expenses you incur while on the road delivering food to customers. You might have invested in a phone mount or upgraded your courier bags for a more professional look. These small investments can be written off on your taxes as business expenses. And let's not forget about the inevitable wear and tear on your vehicle, or the extra miles and fuel you consume while making deliveries. All of these expenses can be claimed as tax deductions, saving you money at tax time.
Don't let the costs of being a DoorDash delivery driver eat into your profits. Take advantage of every tax write-off available to you, and keep more money in your pocket. After all, it's your business and your money – why not keep as much of it as you can?
4. Get DoorDash Driver Rewards.
DoorDash offers a unique perk for its delivery drivers – the DoorDash Driver Rewards program. Unlike other delivery companies, DoorDash recognizes the hard work of its drivers and rewards them accordingly. If you're familiar with Uber's rewards program, Uber Pro, you'll be pleased to know that DoorDash offers a similar program tailored specifically for its delivery drivers.
It's worth noting that Uber's Uber Pro program is only available for its ride-hailing drivers and doesn't extend to delivery partners. Furthermore, if you're only delivering with Uber Eats, you won't be eligible to earn points towards Uber Pro. With DoorDash, however, you can enjoy the benefits of a rewards program, regardless of whether you only deliver with DoorDash or deliver with multiple platforms.
5. Don't fret over acceptance rate.
While having an acceptance rate above 70% may bring some rewards, it's not necessary to accept every order that comes your way. Trust us, long-time DoorDash drivers will tell you the same.
Why? DoorDash operates like an auction, offering low pay for deliveries, then gradually increasing the base pay until someone accepts the order. So, when more drivers decline low-paying orders, DoorDash is forced to raise their base pay.
Focus on accepting only the good deliveries and skip the rest. There's no penalty for declining orders, even if your acceptance rate drops. So, don't stress over it. Wait for the better offers that will come your way.
6. Step up to DoorDash Challenges.
Step up to the DoorDash Challenge and earn some extra dough! These incentives are similar to Uber Quest and reward you for completing a set number of deliveries within a specific time frame. You won't find these challenges in the app, but don't worry – DoorDash will send you an email with all the details before it begins.
Meet the requirements and bask in the glory of your newfound earnings, which will be added to your payouts and eligible for instant access through DoorDash Fast Pay. Get ready to deliver your way to the top!
7. Cancel the orders that aren't ready to go.
Accepting an order is only the first step. But sometimes, once you arrive at the restaurant, things can change and the order won't be ready for pick-up as soon as you expect.
When this happens, don't just twiddle your thumbs. Evaluate the situation: if the wait time is expected to be long, it may be best to cancel the order and move on to the next opportunity.
Of course, cancelling too frequently can negatively impact your completion rate, so use your best judgement. But in cases where waiting just isn't worth your time, let the customer know you're cancelling and that another dasher will be taking care of their order when it's ready.
By being proactive and transparent, you're not only maximizing your time and earnings, but you're also making the customer experience smooth and hassle-free.
8. Unlock the Door to High-Paying Dashes with Advanced Booking.
As a DoorDash delivery driver, you know that the competition for well-paying dashes can be tough. But, what if we told you that you could get ahead of the pack and secure those lucrative orders? The solution is simple: book your dashes in advance!
Imagine this scenario, you're dashing in a prime area with high-paying customers, but suddenly the map starts to get crowded with other drivers. Don't worry, all you need to do is open the dasher app and reserve your spot in the area and time slot you want to work. Once you've booked it, it's yours! No matter how many other drivers flood the area, your dash will be locked in and ready to go.
This powerful technique allows you to schedule your dashes up to six days in advance, which can be especially beneficial in bustling cities. So, don't miss out on those top-performing dashes, book them in advance and watch your earnings soar!
9. Don't get stuck in one place!
Constantly camping outside a restaurant won't necessarily increase your chances of getting an order. In fact, anyone within a reasonable distance can get picked up.
Maximize your opportunity by positioning yourself near multiple dining options. This way, when any of them call for delivery, you're well within reach.
Here's a savvy tip: Park at a mall with a variety of restaurants. This not only gives you access to multiple potential orders but also lets you get to them faster.
10. Avoid low paying deliveries.
Avoid wasting your time and gas money on low-paying deliveries. Instead, aim for orders with a minimum base pay of at least $2 per mile. For even better earnings, seek out orders from busy, popular restaurants that offer a base pay of $7 or more. To avoid getting stuck with low-paying orders, start your dash 10 minutes early to catch the first few orders that have been declined by multiple dashers. By being selective, you can maximize your time and ensure you're earning a fair payout for each delivery.
11. Follow customer requirements.
When it comes to being a DoorDash delivery driver, following customer instructions is key to success. Offering exceptional service can earn you generous tips and positive ratings.
In these uncertain times, many customers may have specific requests, such as contactless delivery. It's important to comply with these requests, no matter how small they may seem.
A knock-free delivery, a food drop-off in a specific location – it's all in a day's work. Most customers provide straightforward instructions, but if you come across something confusing or complicated, don't hesitate to reach out and ask for clarification.
By being a dutiful and attentive delivery driver, you'll be well on your way to earning a reputation for exceptional service.
12. Refresh the DoorDash app frequently.
To ensure your smooth ride on DoorDash, take a moment to hit the refresh button on your app. Just like a computer, it needs a restart every now and then to get rid of any glitches or hiccups. When you're on the road, passing areas with spotty service, it's especially important to restart the app to keep your GPS in check and avoid any technical difficulties.
Don't worry, restarting your app won't erase any data or progress you've made. In fact, doing so can actually increase your chances of getting new dashes. So, make it a habit to hit that restart button after each delivery and every few minutes in between. The DoorDash support team gives you the same advice because they know it works!
13. Send personal updates about the order.
Keep your customers in the loop with updates on their food delivery. Although they can track you on the map, a personal touch goes a long way in building trust and appreciation. Unless instructed otherwise, send them updates throughout the process. Simplify this task by preparing a list of pre-written messages in your notes. This way, all you have to do is copy and paste them into the chat with the customer as you move from one step to the next.
14. Be careful with hot and cold food.
Ensure that your deliveries are served at the ideal temperature to keep your customers happy and leave a lasting impression. Treat hot and cold items with the care they deserve. Keep them apart, preferrably in specially designed insulated bags, to ensure that the heat of the food or drink does not transfer to the other items.
This way, you'll be sure that their melted ice cream arrives creamy and their soup arrives hot. Remember that these bags can also be written off on your taxes! Make temperature control a top priority when delivering your DoorDash orders.
15. Carrying a Sharpie in your car.
Carrying a Sharpie in your car can be a lifesaver for making sure you always deliver the correct orders. Jotting down customers' names on their orders is a foolproof way to avoid any mix-ups. Whether the restaurant provides a receipt or not, having the name clearly written on the bag ensures that you'll never drop off food to the wrong person. Avoiding such mistakes is essential for maintaining a high rating and ensuring satisfied customers every time.
16. Contact support if you hit a roadblock.
When it comes to delivering food as a DoorDash driver, you never quite know what to expect. One moment you could be basking in the glow of a generous $100 tip, and the next, you could find yourself struggling to reach a delivery address because of a simple typo made by the customer.
In the face of such unexpected roadblocks, it's crucial to have a safety net in place. That's where DoorDash support comes in.
If you find yourself in a situation where you can't complete the delivery or reach the customer, don't hesitate to reach out to support. They'll help guide you through the process, ensuring that you don't bear the brunt of any cancellations or mishaps. After all, they're there to make sure your experience dashing is as smooth and seamless as possible!
17. Be professional on the job.
When you're dashing, your appearance matters. You don't have to look like a model, but putting in a little effort to look neat and polished can make all the difference in the world when it comes to your tips.
Avoid anything that might detract from your professional image. This means no loose or saggy pants, and no t-shirts with messages or graphics that may offend others. Remember, you're the face of DoorDash and making a great impression on your customers will ensure you earn more in tips.
So, when you're ready to hit the road, put on an outfit that projects confidence, reliability, and professionalism. You'll be sure to win over customers and leave a lasting impression.
18. Benefit the advantage of Fast Pay.
Looking for a way to get your hard-earned cash even faster? Look no further than DoorDash's Fast Pay! With this handy service, you can instantly transfer your earnings directly to your account, so you don't have to wait for the next weekly payment.
In need of some extra cash for gas or another pressing expense? Fast Pay has got you covered. Simply make a transfer, and your earnings will be deposited in your account in just a few minutes. Just keep in mind, there is a $2 fee for each transfer.
So, say goodbye to long wait times and hello to the freedom of instant access to your money. Fast Pay is the way to go!
19. Don't be limited to one delivery app.
Maximize your earning potential by expanding your delivery horizons. With the abundance of gig economy apps like Uber Eats, Postmates, Grubhub, and Instacart, there's always a chance to pick up a delivery, even if DoorDash is slow.
Think of it as double dipping into the delivery pool – by accepting a dash on another app while fulfilling a delivery on DoorDash, you're increasing your income stream. But make sure to only attempt this if you're a seasoned delivery pro, as juggling orders from multiple platforms can lead to delays and less-than-stellar ratings.
Keep an eye out for overlapping orders and write the customer's name on their orders to avoid confusion. With a little creativity and some smart juggling, you can turn your delivery gig into a profitable and successful venture.
Is door dash a good side hustle?
Deciding whether DoorDash is the right gig for you is a personal journey that depends on several factors. Your schedule, location, and ride are all key components that play a role in determining your success as a Dasher.
With DoorDash, you have the flexibility to work as an independent contractor, which means you're in charge of your own time and earnings. If you're looking to supplement your income and have the right tools at hand, becoming a Dasher for DoorDash could be a fantastic opportunity. Here's a rundown of the top perks that come with the gig.
How Much Do You Make Doing Doordash?
Earning extra income with DoorDash is a flexible and quick way to reach your financial goals. As a DoorDash driver, also known as a Dasher, you become the essential link in delivering delicious food from various restaurants to hungry customers. The process is as simple as receiving an order, picking it up, and delivering it with a smile, all while earning money along the way.
Thanks to recent changes in the pay model, outlined by CEO Tony Xu, earning with DoorDash can vary from location to location and day to day. However, for those who live in bustling cities such as Los Angeles, San Francisco, Chicago, Boston, and Seattle, relying on DoorDash as a full-time job is a possibility.
Conclusion
Delivering with DoorDash is a flexible and lucrative opportunity for anyone looking to earn some extra cash. From the simple pick-up and delivery process to the same day pay, DoorDash is an easy way to achieve your financial goals. The company's CEO, Tony Xu, has also made changes to the pay model to ensure that drivers are fairly compensated for their efforts.
Whether you're looking to make a little extra money or want to live full-time as a Dasher, DoorDash has the potential to provide a source of income in high demand areas like Los Angeles, San Francisco, Chicago, Boston, and Seattle. With the right availability and a high demand area nearby, delivering for DoorDash could be the perfect side gig for you.
In conclusion, DoorDash is a company that offers a unique opportunity for anyone looking to make some extra money. Whether you're looking for a side hustle or a full-time gig, delivering for DoorDash could be the perfect solution for you. With its flexible hours, simple process, and fair pay model, DoorDash is a great way to achieve your financial goals and make a little extra cash.