In this complete guide, I'm gonna teach you, how to sell on Facebook marketplace, along with 17 top selling items on Facebook marketplace and tips to maximize your earnings.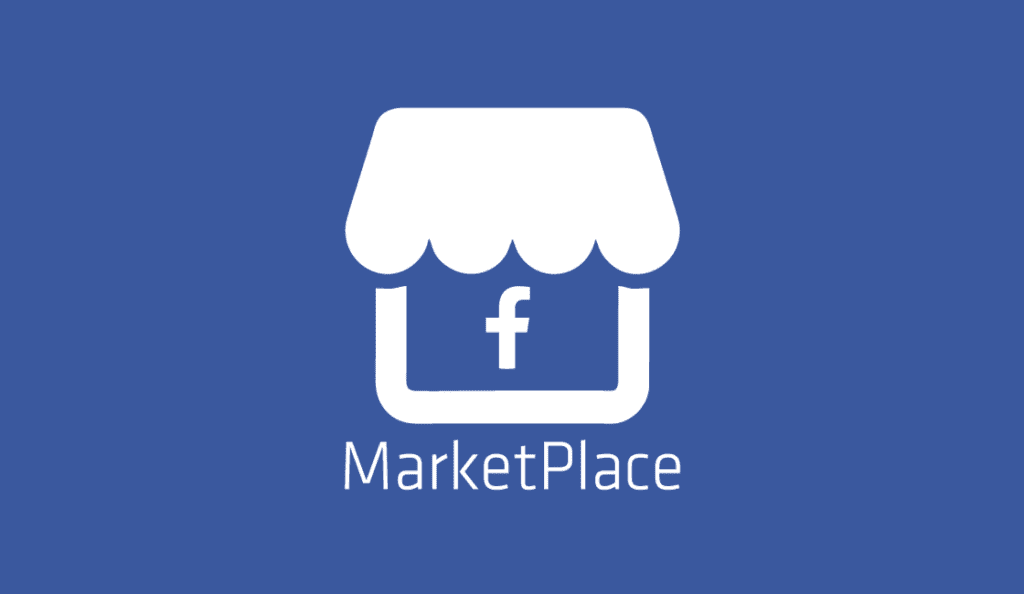 Selling on Facebook Marketplace is a simple way to earn extra money. Like Craigslist, listing is free. You can sell and ship nationwide. But how do you begin?
Keep reading to find out!
What is Facebook Marketplace?
Earning money on Facebook Marketplace is really simple. It's a online platform where people can buy and sell things nearby or by shipping them. You just use your Facebook account to sell your stuff or find things you want to buy. If you're interested in selling things in your area on Facebook Marketplace, this article is perfect for you!
Is Facebook Marketplace a good place to sell?
What sets Facebook Marketplace apart from other online stores like Craigslist or eBay is that it's part of Facebook itself. This lets potential buyers talk to sellers using Messenger or be part of local or specific interest buy-and-sell groups on Facebook.
Since Facebook Marketplace is connected to your Facebook profile, it's useful for quick background checks, making buying and selling safer. Many people use Facebook daily, so more potential buyers might see what you're selling. If you're new to selling online, Facebook Marketplace is one of the simplest and most effective ways to earn money.
How To Sell on Facebook Marketplace (Step by Step Guide)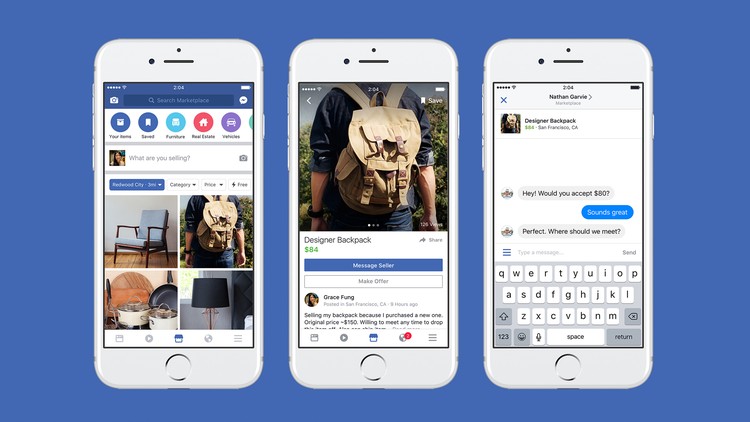 To create a Facebook Marketplace listing, follow these steps:
Log in to Facebook and select "Marketplace."
Select "Create new listing."
Select "Item for Sale."
Enter the following information:

Up to 10 photos of the item
A title for the listing
The price of the item — enter 0 to list the item for free
The category and subcategory in which the item best fits
The item's condition: new, like new, good or fair
A description of the item

Click "Next." If the button is grayed out, one of the required fields is missing information.
Enter the following information on the "Delivery method" screen:

The delivery method: shipping only, local pickup only or both options
The shipping method: prepaid USPS label or seller-created label
Any other fields as prompted

Click "Next."
Select any Buy and Sell groups to post the listing in additional areas of Facebook.
Click "Publish" to make the listing live.
How to Create a Listing on Facebook Marketplace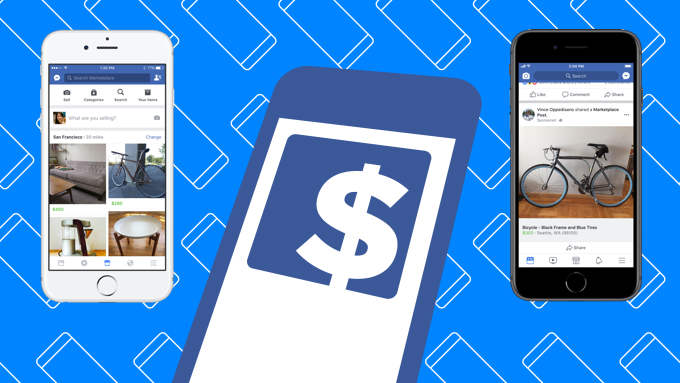 Selling on Facebook Marketplace means your listing will be public and seen by anyone, both on and off Facebook. You can also post your listing in Buy & Sell Groups you're part of to reach more people and sell faster.
Here's how to create a Listing on Facebook Marketplace:
Step 1: Go to Facebook Marketplace
From your Facebook News Feed, click on "Marketplace."
Step 2: Create Your Listing
Click "+ Create New Listing," then choose "Item for Sale."
Step 3: Add Photos
Click "Add Photos" to upload clear and bright pictures of your item. Using a ring light can make your photos better by reducing shadows and showing accurate colors.
Step 4: Describe Your Item
Provide these details:
Title
Price (research to offer a fair price)
Category
Condition (be honest)
Description
Check similar items on Facebook Marketplace to set a good price. For multiple items in one post, set the price as $1 and explain each item's cost in the description.
Step 5: Publish Your Listing
Click "Next" and then "Publish" to share your listing on Facebook Marketplace. To get more exposure, you can also post in local Buy & Sell Groups on Facebook.
Top Selling Items on Facebook Marketplace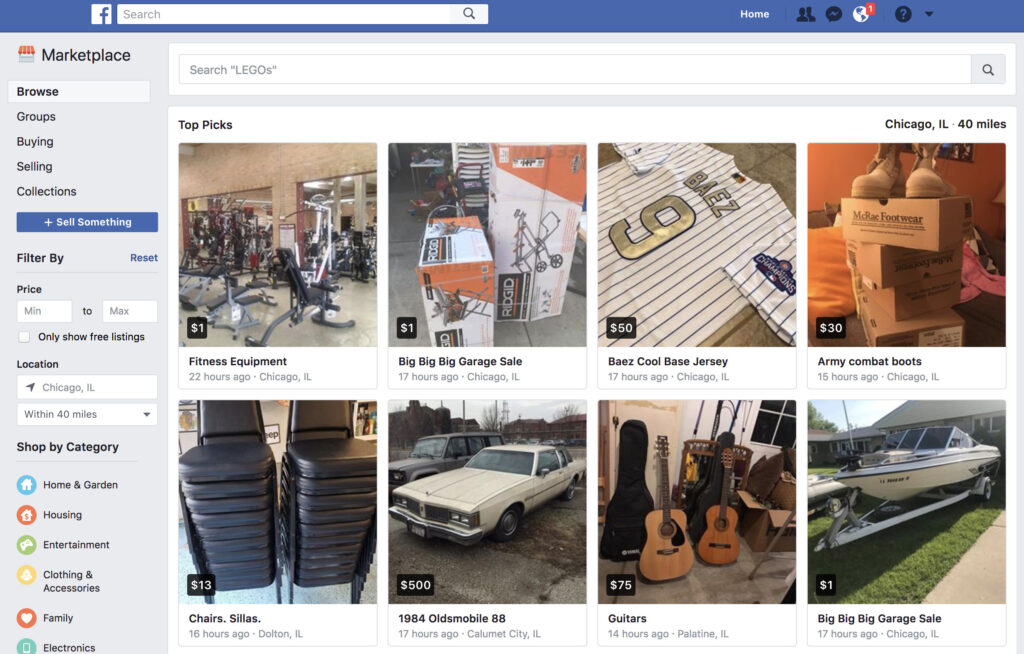 Here are some examples of items that tend to sell well on Facebook Marketplace:
1. Furniture
Furniture is a great thing to sell on Facebook Marketplace. You can sell new or used furniture sets and individual pieces. People often sell big furniture like dining sets, beds, couches, and dressers.
But don't forget about smaller furniture items that also sell well:
Stools
Chairs
Sofas
Bookshelves
Desks
Side tables
Smaller pieces fit easily in most vehicles, and they usually sell fast because buyers can pick them up themselves. Outdoor furniture can also sell well, but make sure it's in good condition. Always give a detailed description of the furniture's condition, including any scratches or dents, and include lots of photos. Our guide on selling furniture locally has more helpful tips for getting started.
2. Clothing, Shoes, & Accessories
It's not a surprise that clothes are a top-selling item on Facebook Marketplace. While websites like Poshmark are popular for selling clothes and shoes, you can actually do really well selling apparel and accessories on Facebook Marketplace too, if you follow some tips. When it comes to selling clothes on Facebook, focus on recognized designer brands and offer them at a lower price.
The trick to selling clothes on Facebook is to focus on famous designer brands and offer them at a lower price. Some popular brands that do great on Facebook Marketplace are:
Adidas
Coach
Guess
Levi's
Lululemon
New Balance
Nike
Old Navy
Tom Ford
Under Armor
You can also have luck selling trendy stuff like a specific style of purse, sneakers, or a jacket that's all over Instagram. Selling things you've worn only once, like a prom dress or wedding dress, can also make you some quick money. And remember, Facebook Marketplace isn't just for super trendy clothes; stick to the basics too. For trendy pieces, you can also use sites like Mercari and apps like Depop.
Selling seasonal items on Facebook Marketplace is a smart move. Think Christmas décor, Halloween outfits, and Easter decorations. Also, stuff like barbecues, snow shovels, and patio furniture can be popular. Just time it right. Don't try to sell a snow shovel in summer, though. Match the item with the season for quick sales.
I'm an avid reader myself, and I know how much people love finding affordable books. That's why books are a hot item on Facebook Marketplace. While books aren't super expensive, they're still a great thing to sell. If you're not planning to read them again and want to clear some shelf space, it's worth listing them to make some easy money.
Certain books like college textbooks can even sell for a good price, making books one of the top-selling items on Facebook Marketplace. If you have whole sets of popular series like Harry Potter or The Lord of the Rings, you might find buyers quite fast.
5. Garden Tools And Plants
Selling gardening tools and plants is a hit on Facebook. Tools match seasons, so wait for Spring. Pots and indoor planters sell well year-round. Plants are trendy. Selling cuttings can be a great side gig. I got $40 plants for $5 on Facebook. Growing them costs almost nothing, so it's profitable.
6. Home Goods
Certain things sell faster in this category. Home décor is tricky due to personal taste. Small appliances do well. You can also sell silverware, glassware, and fine China. Air fryers, bread makers, AC units, fans, and fire pits are popular. Old lighting fixtures sell great too, even though people often toss them during renovations. Snap a pic while mounted so buyers see how it looks.
7. Sports & Fitness Equipment
Fitness and sports items are hot sellers on Facebook Marketplace. Fitness is trending, but some things are used briefly. So, sports gear sells well. I sold an older bike trainer easily.
Even used dumbbells can get you good money, given equipment shortages. Sell used bikes, rollerblades, skateboards, and health products too. They go fast.
8. Trading Cards
Trading card games are big on Facebook Marketplace. People sell Yugioh, Pokemon, and Magic cards for profit. If you're unsure of card values, sell in bulk at a fair price.
Buyers seek rare cards in bundles. Sports cards like baseball and basketball sell too. Research your valuable cards for best prices. Selling these cards can be quick and rewarding.
9. Tools
Tools and DIY supplies sell well on Facebook Marketplace. Second-hand tools are sought after for savings. Larger tools or power tools in good shape sell easily. Bundle smaller tools for starter kits, useful for new buyers or renters. Selling tools might take a bit longer, but it's smart if you won't use them. New tools can be pricey, making this a great option.
10. Toys
Kids' toys are popular on Facebook Marketplace. Kids often can't tell new from used. Good-condition toys they've outgrown sell fast. Research and price fairly. Hot toys sell well. Original packaging adds value.
Top toys to sell:
Baby toys
Barbies and action figures
Board games
Dinosaur toys
Lego sets
Nerf items
Toy cars
Lots of folks bundle toys, maybe $5 to $20 for plastic toys. But for things like Lego sets or vintage Fisher Price baby toys, you could get $50 or more!
11. Baby Supplies
Baby supplies sell quickly on Facebook Marketplace. It's a win-win, helping both you and other families. Babies grow fast, leaving unused gear. This makes baby supplies top sellers on the platform.
You can sell:
Strollers
Car seats
Pack and plays
Clothes
Shoes and accessories
Baby books
Check recalled items and safety for strollers and car seats. You can even earn by renting gear with sites like BabyQuip. Facebook Marketplace is a go-to for baby stuff.
12. Jewelry
Jewelry sells well on Facebook Marketplace. Trends matter, but timeless pieces like gold and diamonds are always good. Your taste might match a buyer's, so it's worth trying.
Some popular categories you can consider selling include:
Diamonds
Wedding rings
Earrings
Necklaces
Bracelets
Watches
Costly pieces might get low offers. Decide your lowest price and stick to it. If needed, you can pawn for quick cash or explore other options if Facebook Marketplace isn't ideal.
13. Electronics
Wondering what's popular to sell on Facebook Marketplace? Electronics are a hit, and you can sell working electronic items there.
Consider selling:
Old TVs
DVDs and VHS tapes
Computers and tablets
Gaming consoles like Xbox or PS5
Video games
Headphones
Smartphones (especially Apple products like iPhones or iPads)
Smart watches
Remember to reset your device before selling. If the buyer picks it up, show that it works. Apple stuff sells well, but Bose, Samsung, and Google are good too. Include details like condition and memory.
When the buyer comes, they might test it. Check out my post on getting free electronics for money-saving tips!
14. Vehicles
Selling cars on Facebook Marketplace takes more effort than selling other things. You need to handle paperwork, research, and set up test drives. But, selling here might get you more money than trading at a dealership.
In 2020, used car dealers had fewer cars and people wanted to avoid fees, making cars a top choice on Facebook. Your car might not sell fast, so be patient for the right buyer. It could also take time to finish the sale, so stay patient!
15. Instruments
Instruments are popular to sell on Facebook Marketplace. Many people buy instruments but don't stick with them. If you have instruments sitting unused at home, you can make money on Facebook.
You can sell:
Guitars
Pianos
Drum kits
Violins
Musical gear like speakers and microphones
Setting a good price should help you sell quickly. People often prefer used instruments instead of new ones.
16. Collectibles
Collectibles also sell well on Facebook Marketplace. There are many types that local buyers might want.
Examples include:
Antique furniture
Funko Pops
Coins
Comic books
Disney VHS tapes
Beanie Babies
Old books
Old postcards
Stamps
Vinyl records
If your collection is rare, it could take time to find buyers. For really unique stuff, private auctions or online selling might work better. In big cities, any collectible is a hit on Facebook Marketplace.
17. Anything Handmade
Handmade items are also big hits on Facebook Marketplace. People like supporting local artists, and handmade things usually sell fast and at a good price.
You can sell things like:
Artwork
Candles
Crafts (birdhouses, home decor, fun pieces)
Furniture
Hats and scarves
Knit clothing
Jewelry
Soap
Welded decor
Wooden toys
In my area, lots of folks are selling handmade furniture and crafts. Someone's even selling unique handmade notes and gifts, which is a clever idea!
What Cannot Be Sold on Facebook Marketplace?
While Facebook is a good place to sell stuff, there are things you can't sell there:
Not-real things: You can't sell things that aren't real products.
Services: Selling services like cleaning isn't allowed.
Animals: You can't sell animals on Facebook.
Healthcare stuff: Items like thermometers or first aid kits aren't allowed.
Mismatched description and photos: The item's photos must match its description and title.
Before-and-after pics: You can't show before-and-after photos, like weight loss results.
Pros & Cons Of Selling On Facebook Marketplace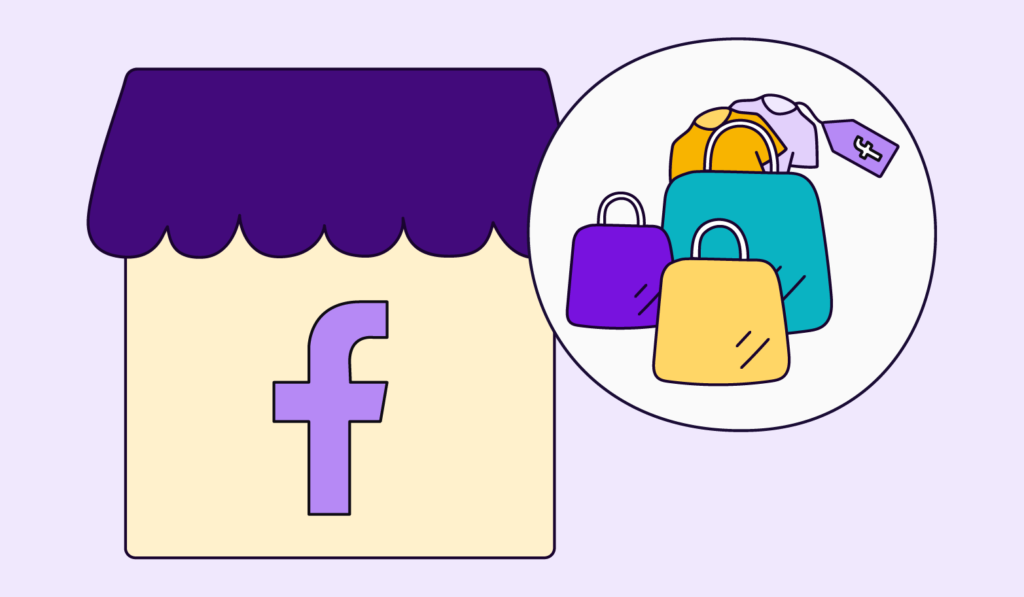 Facebook Marketplace is a quick and easy way to sell with over a billion users. However, there are pros and cons to think about before you start selling.
Pros:
It's free to use.
You can make listings fast.
Lots of categories do well.
You can sell locally and get cash quickly.
Cons:
Not great for shipping products or online selling.
Some buyers might offer low prices or change their minds.
You don't build a seller profile or online business like on platforms such as Mercari or eBay.
For instance, Mercari and eBay let you build up a seller reputation and online store, which is like having your own resale business. On Facebook Marketplace, you can earn quickly, but you're not really creating a long-term business.
How Payment and Delivery Work on Facebook Marketplace
When you sell things nearby, buyers pay you in person when they pick up the item. But if you need to ship, Facebook helps with the payment.
If you're shipping:
Buyers pay shipping costs.
If the item sold for over $8, you pay a 5% fee (or a flat $0.40 fee for items under $8) to cover processing and protection. But after July 1, this fee will change to only cover processing costs.
You can buy a prepaid USPS label from Marketplace or make your own label for shipping.
After selling:
If you use a prepaid label, you'll get an email with the label. You have 3 days to ship, whether using prepaid or your own label.
How To Set Up Shipping on Facebook Marketplace
To use Facebook Marketplace's shipping option and get paid by Facebook, you need to set up your payment info. Here's how:
When you make a listing with "shipping" as the delivery method, you'll be asked for:
Your full name
Birthdate
Address
Bank account details (account name, routing number, account number)
How Do You Get Paid on Facebook Marketplace?
Facebook works with an outside payment processor to gather the money from the buyer for the item's price and shipping costs.
If you decide to handle shipping yourself:
You need to mark the item as shipped and provide a tracking number to get paid.
If you buy a prepaid label through Facebook, the tracking number is automatically added, and the item is marked as shipped.
Usually, banks put the sale money into your account within about 20 days. But the exact timing depends on your bank's procedures.
Tips for Selling on Facebook Marketplace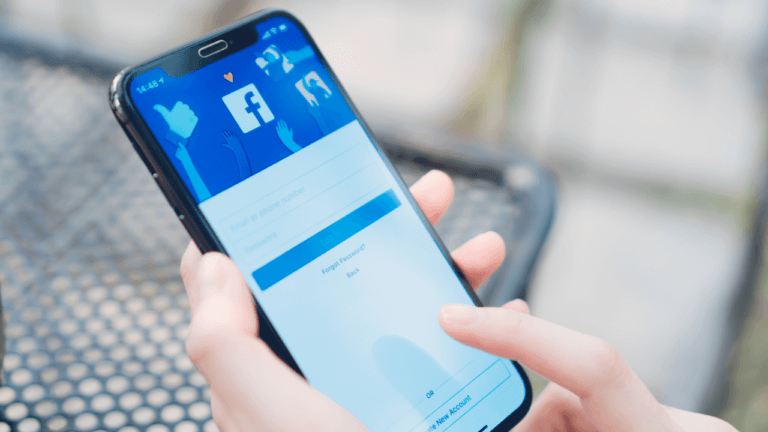 Now that you're familiar with the top-selling items and creating a listing at Facebook Marketplace, you're all set to earn some extra money!
However, to maximize your chances of a quick sale and getting your desired price, it's crucial to create your listing correctly.
Luckily, we've got some valuable Facebook Marketplace selling tips that you can use to increase your sales.
1. Take Multiple, High-Quality Product Photos
The top tip for making money through Facebook Marketplace is to upload a variety of photos. Your product images should clearly show potential buyers what they'll be getting. To achieve this, take well-lit photos from different angles, and make sure to include images of any unique details like model numbers, brand names, or clothing tags.
Also, don't forget to include pictures of any damages or imperfections. Honesty is key to avoiding issues during the transaction. A clever strategy is to add a photo of the original product listing from the manufacturer's website, if it's still accessible. This adds credibility as buyers can see where the item is from and all the manufacturer's details (plus, their photos are often better). This can help build trust with potential buyers.
2. Write In-Depth Descriptions
When you're making a listing on Facebook Marketplace, you fill in details like dimensions, brand, and condition. But don't just stop there; offering a more comprehensive description that explains the reason for selling and the specifics of the product gives buyers more useful information.
Include various aspects: brand name, dimensions, how long you've owned it, material, design, whether your home is smoke-free or pet-friendly, and whether it's for pickup only or if delivery is an option. For clothing, having a sizing chart is valuable; you can usually find this on the brand's website and include it as a photo.
Also, it's important to mention why you're selling the item. Let buyers know you're selling your road bike because you no longer use it, not because it's in poor condition. Lastly, use a catchy headline to attract more attention to your listing!
3. Use Keywords
This tip for Facebook Marketplace is about creating detailed listings, and it's quite significant. When you're writing your listing title and description, make sure to include relevant keywords. Being precise about what your item is helps the right potential buyers find it easily in their searches.
Being specific is crucial. For instance, if you're selling an iPhone, don't just write "iPhone for sale." Instead, provide more details like "Unlocked White iPhone XR with 128 GB storage," and you'll increase your chances of success.
4. Set Competitive Prices
Items that sell quickly on Facebook Marketplace usually have prices that compete well with similar listings. This makes sense because when buyers are browsing a secondhand marketplace, pricing plays a huge role in their decisions. So, it's wise to research and check how other sellers on Facebook Marketplace are pricing their items. Then, you can list your product at a similar or slightly lower price to stand out.
Take a look at other listings and their prices, and consider going a bit lower. Unless your item is exceptionally rare or in impeccable condition, it's important to be competitively priced. Otherwise, potential buyers might opt to look elsewhere.
5. Be Responsive And Polite
When buyers message you, aim to reply within a reasonable time and maintain a polite tone.
Remember, just as you're assessing them, they're also forming an impression of you. So, make the exchange friendly and smooth to create a positive impression on both sides.
6. Always Be Safe
Even though Facebook Marketplace links to people's actual Facebook accounts, you're still dealing with strangers, so it's vital to be cautious about how and where you meet.
First off, if you decide to meet a buyer in person, always choose a public place. If you opt to meet at your home, have someone else there with you.
If selling from home isn't your preference, avoid revealing your address or personal details in your listing or when communicating with potential buyers. Your safety matters!
7. Spruce Up Items Before Listing
Here's another helpful tip for selling items on Facebook Marketplace: invest some effort before you list to spruce up what you're selling. This might involve ironing a shirt before taking a picture or making some DIY improvements.
Sellers often do this, especially when they're flipping items, and putting in the work can significantly boost your selling price. For instance, in a video, YouTuber Christina Muscari shares how she flips furniture on Facebook Marketplace.
FAQs
Can you make money selling on Facebook Marketplace?
Absolutely, making money on Facebook Marketplace is very doable. To start selling, you'll need a Facebook account and should adhere to the platform's guidelines. It's a convenient method to declutter your home by selling things you no longer require. It's a win-win situation!
What are the best items to sell on Facebook Marketplace?
The items that tend to sell best on Facebook Marketplace and help you make money include furniture, sports and fitness gear, books and textbooks, children's toys, clothing and shoes, electronics, outdoor and garden items, office supplies, pet supplies, and storage or organization items. These categories often attract buyers and can help you earn some extra cash.
What sells quickly on Facebook Marketplace?
The items that tend to sell the quickest on Facebook Marketplace are children's clothes and toys, furniture, gently used electronics in good condition, items that are large or not worth shipping, and fitness or home office equipment. If you're aiming for a speedy sale, ensure the item is in good shape, take high-quality photos, and set a reasonable price when you list it. This can help attract buyers and lead to a faster transaction.
How to sell things fast on Facebook Marketplace?
To sell quickly on Facebook Marketplace, start by setting a fair price. Usually, list items at 50% or less of their regular price. If it's in great condition, you can try a higher price.
Also, add lots of details in your listing's description. This helps buyers learn more about your product and what makes it special compared to similar ones already listed.
What is the best day to sell on Facebook Marketplace?
For selling on Facebook Marketplace, weekends work well. List items on Thursday afternoon for best results. People often want to pick up items over the weekend.
But remember, it can be random too. Depends on product demand and current interests.
How to sell on Facebook Marketplace without friends seeing?
Some folks hesitate to sell on Facebook due to friends seeing their items. But you can adjust this. Although Marketplace listings are visible to everyone, you can change settings when you make a listing. To sell discreetly, pick "Hide from friends" in privacy settings. This hides it from friends but not others on Facebook.
How much does it cost to sell on Facebook?
Selling on Facebook Marketplace is free. No fees to join or list items.
How are payments made on Facebook?
When buying and selling on Facebook Marketplace, go for cash or person-to-person payments. PayPal or wire transfers work well, as suggested by Facebook.
What are the rules for selling on Facebook?
Some things can't be sold on Facebook Marketplace. This includes non-real stuff, services, animals, and health items. Also, descriptions must match photos—no before and after pics allowed.
How does Facebook Marketplace work?
Facebook Marketplace is an online place to buy and sell stuff. When you sell, you make a public listing anyone can see. If someone's keen, they'll send a private message. On Facebook Messenger, chat about price and plan pickup or delivery.