If you are looking for ways to make more money, you might want to check out the Steady app. Steady is a platform that helps you find flexible and diverse income opportunities, track your earnings, and access financial tools and resources.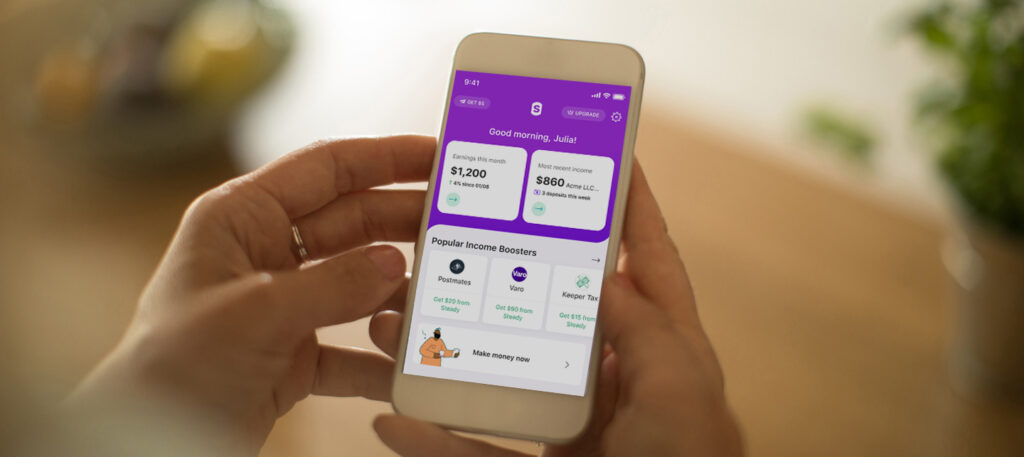 In this blog post, I will show you how to make money on Steady app in three easy steps.
Step 1: Download the Steady app and create your profile
The first step is to download the Steady app from the Google Play Store or the App Store and create your profile. You will need to provide some basic information about yourself, such as your name, email, phone number, and location. You will also need to link your bank account or PayPal account to receive cash rewards and access financial services.
Once you have created your profile, you can start exploring the income opportunities that Steady offers. You can browse by category, location, or keyword, and filter by hourly rate, schedule, skills, and more. You can also see how much other Steady members are earning from each opportunity and read their reviews.
Step 2: Apply for income opportunities and earn cash rewards
The second step is to apply for the income opportunities that suit your needs and preferences. You can apply directly from the app or follow the instructions provided by the employer. Some opportunities may require you to complete a background check, a test, or an interview before you can start working.
Once you have been accepted for an opportunity, you can start earning money. You can also earn cash rewards from Steady by completing certain tasks or making smart financial decisions. For example, you can earn $100 by signing up for a new bank account, $50 by refinancing your student loans, or $25 by taking an online course. You can find these offers in the Boost tab of the app.
To receive your cash rewards, you need to verify your completion of the task or offer by uploading a screenshot or a receipt. Once verified, Steady will send you the money to your linked account within a few days.
Step 3: Track your income and access financial tools
The third step is to track your income and access financial tools that can help you improve your financial health. You can link all your income sources to Steady and see how much you are earning from each one. You can also set income goals and track your progress in real-time.
Steady also provides you with financial tools and resources that can help you save money, pay off debt, invest for the future, and more. You can access these tools in the Thrive tab of the app. Some of the tools include:
A budget planner that helps you create a personalized budget and track your spending
A savings calculator that helps you find out how much you need to save for your goals
A debt payoff planner that helps you create a plan to pay off your debt faster
A credit score tracker that helps you monitor your credit score and get tips on how to improve it
A retirement calculator that helps you estimate how much you need to save for retirement
A tax estimator that helps you estimate how much taxes you will owe or get back
A health insurance marketplace that helps you compare and enroll in health insurance plans
Steady also partners with non-profit organizations to provide emergency cash grants to members who need it most. You can apply for these grants in the Impact tab of the app.
Conclusion
Steady is a great app for anyone who wants to make more money, diversify their income sources, and improve their financial health. By following these three steps, you can start earning money on Steady app today. Download the app now and join the 6 million Steady members who are taking action to steady their income.