If you're a fitness professional, it's likely that you're passionate about what you do. But if you're ready to take your career to the next level and experience even greater fulfillment, it's time to consider launching your own online fitness business!
Online workout training have become incredibly popular, and with the advancements in streaming video technology, it's never been easier to meet the demand and become a successful entrepreneur.
Don't worry, we're here to support you every step of the way.
In this post, we'll explain how starting your own business can help you create the independent online fitness business you desire while also earning a living from it.
Also if you're interested in more ways to make money online with an just a laptop, check out our guide on How To Make Money From Your Computer (19+ Proven Ways).
Why Start an Online Fitness Business in 2023?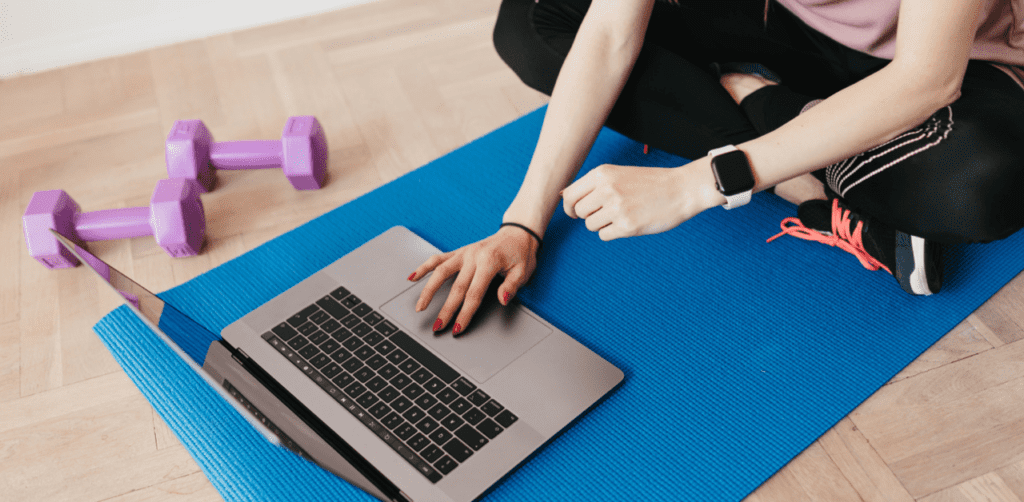 Starting an online fitness business in 2023, offers expanded reach, income scaling, flexibility, growth opportunities, and favorable timing. The demand for convenient home fitness and the ability to cater to a wider audience make it an attractive venture.
Fitness professionals can provide personalized sessions, customized nutrition plans, and specialized workshops. The industry is experiencing significant growth, with high demand and a larger customer base.
By following a our step-by-step guide, fitness professionals can position themselves for success in the evolving digital fitness landscape.
Importance of online fitness businesses
In recent years, the demand for online fitness solutions has skyrocketed. People are seeking convenient ways to stay fit and healthy without the limitations of time and location. Online fitness businesses bridge this gap by providing accessible and personalized fitness programs, coaching, and resources through digital platforms.
Whether it's through mobile apps, websites, or social media, online fitness businesses offer a flexible and cost-effective alternative to traditional gym memberships and in-person training.
Benefits of starting an online fitness business
Starting an online fitness business comes with numerous advantages.
Firstly, it allows you to reach a broader audience beyond your local community. With the power of the internet, you can connect with individuals from all around the world who share a common interest in fitness.
Secondly, online fitness businesses have lower overhead costs compared to brick-and-mortar establishments, making it a more financially viable option for many aspiring entrepreneurs.
Lastly, online platforms offer the opportunity to scale your business rapidly and generate passive income through digital products and memberships.
Online Fitness Trends in 2023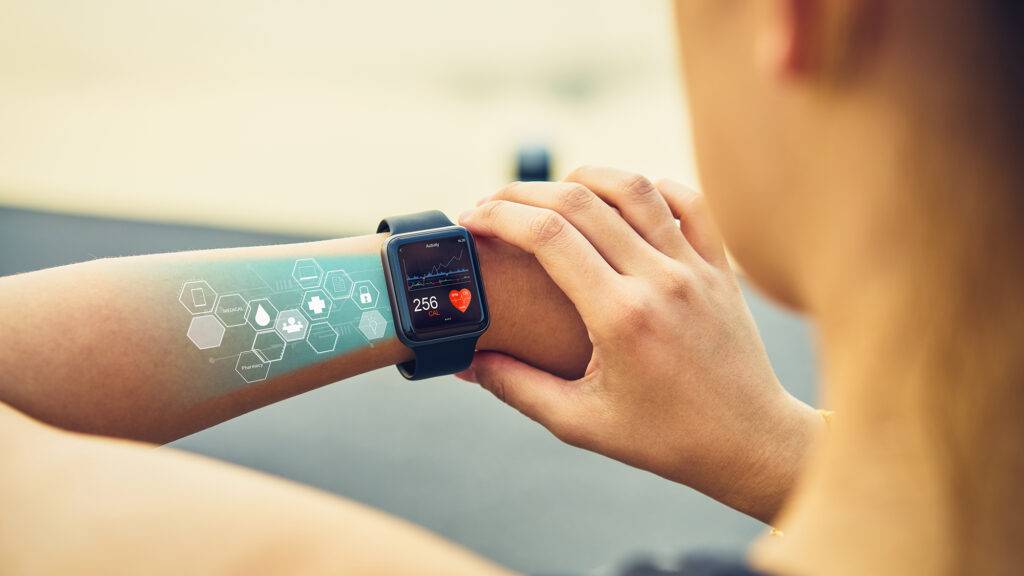 The fitness industry experienced significant impact from the Covid lockdowns, leading to the rise of online training and home gyms. Focus on improving immune function and overall health became prominent.
These trends continued into 2021 and 2022, with a growing availability of digital fitness options. Changing behaviors continue to influence the industry as we enter the new year. Stay ahead of the curve as a fitness professional by understanding the hot and trending fitness trends.
Here are the top trends shaping the industry this year:
Biohacking becomes mainstream, focusing on incremental changes for health and performance.
Online workouts and hybrid memberships cater to convenience and flexibility.
Fitness wearables evolve beyond tracking performance, providing detailed health insights.
Low impact workouts gain popularity, appealing to beginners and those seeking non-threatening options.
Outdoor fitness activities like hiking, cycling, and Bootcamp classes grow in demand.
Mini workouts in shorter, more frequent sessions or targeted body part training gain traction.
HIIT workouts continue to rise, incorporating strength training and promoting individual training options.
Online Fitness Business Ideas
The global online fitness market is projected to reach $59 million by 2027, driven by streaming, fitness devices, and online training. COVID-19 has accelerated the adoption of virtual fitness at home. Online fitness is considered a flexible and effective workout option.
Three online fitness business ideas to consider:
Online Personal Training Business: Offer virtual personal training to individuals and groups worldwide, leveraging technology to expand your reach.
Fitness Training Courses and Workshops: Develop pre-made online programs with live streaming options, additional resources, and one-on-one support.
Virtual Yoga Teacher and Fitness Instructor: Lead virtual classes globally through live streams and on-demand content, potentially combining digital and in-person teaching for broader appeal.
How to Start an Online Fitness Business: Step by Step Guide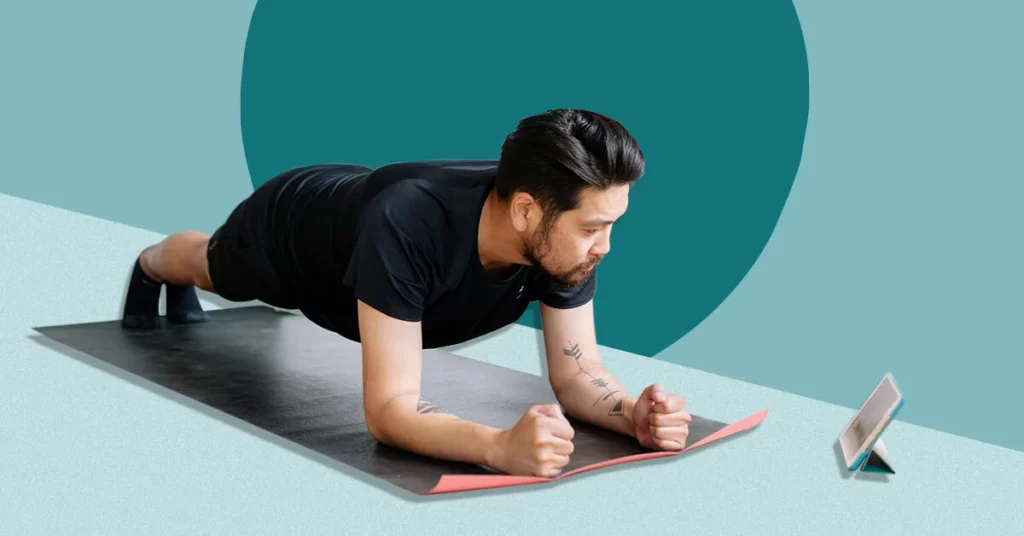 If you're looking to start an online fitness business, we have five detailed steps. We will also be discussing marketing and monetizing your venture.
Let's start:
Step 1: Select a niche
The fitness industry covers a wide range of topics, including healthy eating, self-control, weight loss, motivation, meditation, diet plans, exercise, workouts, pilates, zumba, yoga, and more.
Considering all these aspects of fitness can be beneficial, but we recommend focusing on a specific area. What is your main specialization? Do you specialize in providing workout videos and routines, or do you offer guidance on healthy diet plans?
Are you planning to create a series of workout videos, or will your website focus on sharing recipes and ideas for healthy eating?
Here are some popular ideas:
Weight loss
Bodybuilding
Healthy eating
Functional movement training
Nutrition plans for better health
A diet regime for all age groups
At home workout plans
Selecting a niche helps you focus and gain authority. Consider your passion, enjoyment, and experience in the fitness business. Take time to understand your wants, needs, market demands, and business potential before choosing a niche-based website.
Find a Good Name for Your Business
The name of your business has a significant impact on its identity and audience perception. Before generating name ideas for your online fitness business, consider your business focus, target audience, content, and ease of spelling and pronunciation.
Use the same name for your online presence if you have a physical business. Seek inspiration from competition and expired domains. Conduct a domain test to ensure availability. Prepare alternative names in case your desired domain is taken.
Get creative with domain naming by incorporating a region, niche, or location.
Step 2: Define Your Business Model
When building your online business, consider your preferred business model. You have the freedom to choose as an entrepreneur. Popular options include one-on-one classes, group live-stream classes, and pre-recorded classes.
One-on-one classes
One-on-one classes are like personal training sessions online. It's similar to training clients in a gym, but with the flexibility of scheduling and the ability to reach a wider audience beyond your local area.
2. Group live stream classes
Group live stream classes are online fitness classes conducted in a group format. It's important to note that these classes require you to teach live. The maximum number of clients who can participate in your live stream classes depends on the streaming platform you select.
3. Pre-recorded or On Demand classes
Pre-recorded or on-demand classes are workouts that you record and upload for clients to buy. Clients pay a fee to access your videos, and you can offer additional options like meal plans or one-on-one coaching sessions.
When selecting your business model, think about which one aligns with your financial and flexibility objectives. Don't hesitate to combine multiple models to maximize your earnings and expand your reach!
4. Subscription model
Essentially, the customers are required to make a recurring payment for ongoing access to the service.
Step3: Find Your Audience
A niche helps identify your target audience, but it's about more than that. Your business impacts your audience, so audience analysis is crucial. Consider who your audience is and who your services are for.
Put yourself in their shoes, understanding why they visit your website, how you can benefit them, and what you should offer. By doing so, you can find your target audience and focus on converting them into customers.
Key takeaways:
Identify potential clients from your existing following.
Determine your ideal customer base by understanding their demographics, preferences, and budget.
Connect with your target audience where they spend time online.
Increase visibility through social media, teaser videos, and paid ads.
Building a community of long-term customers requires understanding and meeting their needs.
Step 4: Make a business plan
Once you know your niche and the types of classes you'd like to host, it's time to create a business plan. Writing a business plan doesn't need to be complicated, and many free downloadable templates are available online.
When creating your business plan, the most important things to consider are how much it will cost to run your business compared to the revenue you'll bring in. Additionally, when writing your business plan, consider your unique selling point or what it is that sets you and your services apart.
Doing so will help you when it comes to building out other areas of your plan, such as your marketing strategies.
Your plan for your online business should include the following:
Goals and objectives
Market analysis
Value proposition
Marketing and sales
Operations and staffing
Financial projections
Potential risks and challenges
Step 5: Build Your Fitness website
After creating a solid business plan and understanding your target audience, it's time to develop your website. You can choose from platforms like Wix, Squarespace, or GoDaddy to build it yourself.
Alternatively, you can hire someone to build it for you if that fits your budget. When starting, focus on essential pages such as the homepage, about page, and contact page.
Homepage: Provide comprehensive information about your services and explain why people should choose you for training and purchasing services.
About page: Use this page to establish your company's reputation by sharing details about yourself, including your personal fitness journey.
Contact page: Include contact information and a fillable form for easy communication. Additionally, offer a sign-up option for a fitness newsletter to build an email list of potential customers.
Step 6: Create Your Fitness Content
The success of your online fitness business depends on the content you publish. Quality and quantity are key factors that can determine the outcome of your venture.
Your chosen niche guides the type of content you should feature on your website.
For an online fitness business, this can include workout videos, diet plans, tutorials, and related content.
Alternatively, you can create a blog with tips, videos, audio, or images to explain your fitness business.
To increase website visibility, create and publish content while considering Search Engine Optimization (SEO).
Step 6: Promote Your Online Fitness Business
After following the previous steps, it's crucial to market your new fitness brand. Without marketing, you'll struggle to find clients. Take the time to develop a solid 1 year marketing plan and then promote your business extensively.
Starting an online fitness business in 2023 is an excellent opportunity to grow your business and achieve financial freedom.
We have explained more about how to promote your online fitness business effectively. Read on!!!
How to Build a Online Business Platform
Your platform is the central hub of your online fitness service, so it should have an appealing appearance. Follow these steps to create a user-friendly home base:
1. Create Your Website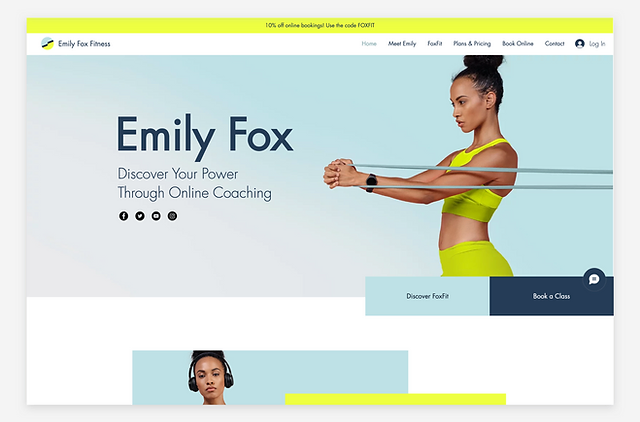 Choose an all-in-one video hosting platform that provides the necessary tools for a great video website experience. Customize the layout using themes and templates, and make it clean, well-organized, and easy to navigate.
Include:
Detailed service description.
"About" section highlighting your expertise.
Clear call-to-action.
Pricing details and payment methods.
Incentives like a free trial period.
Check out MxM Fitness for inspiration.
2. Upload and Organize Your Content
Afterwards, prepare your fitness training videos for viewing by uploading and organizing them effectively.
Organize your fitness training videos in a content library with custom categories, tags, and filters for easy navigation. Customers should find what they need quickly, minimizing search time and maximizing training time.
An organized library of video content enhances the user experience.
You can also create customized filters to allow users to refine their search.
For instance, MxM Fitness utilizes filters tailored to their offered classes, including class length, difficulty, workout type, category, and theme, helping customers locate specific classes.
3. Customize Your Platform to Reflect Your Brand
Customize your website and platform to align with your brand's style, including typography, color schemes, brand voice, and visual elements. Consistency across platforms enhances your online presence and helps customers recognize your brand.
Key Elements When Creating a Memorable Brand:
Typography.
Color schemes.
Unique brand voice.
Training video and photo editing.
For example, MXM Fitness maintains a consistent look between their website and Instagram account.
With a well-built platform, you can now proceed to price your products.
How to Promote Your Online Fitness Business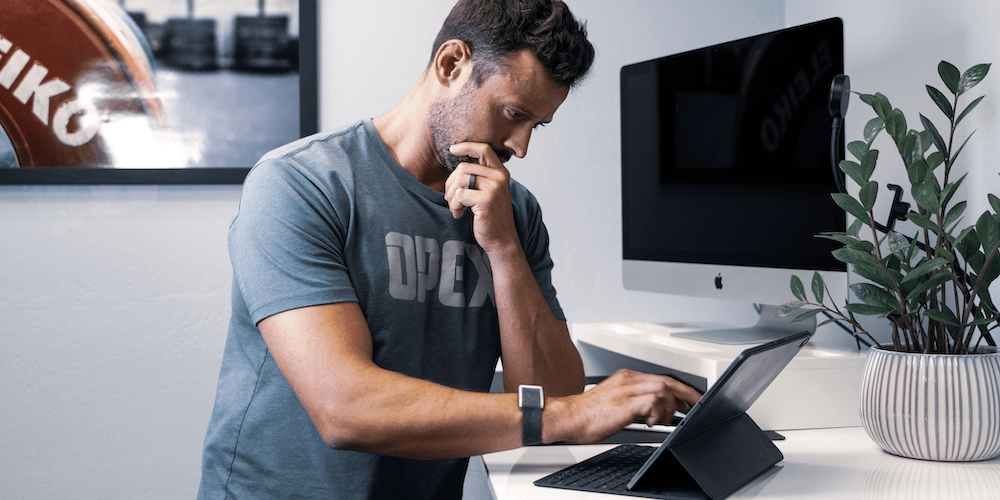 To succeed online, building and publishing a website is not enough. You must also market it. With billions of websites out there, you need effective tactics to stand out. Marketing involves various strategies like social media sharing and email campaigns. Though time-consuming, it's crucial for business success.
Here are proven marketing strategies for your fitness business:
Use search engines to Rank on Search
Utilize search engines like Google and Bing to reach a wide audience and increase website visibility. Implementing SEO (Search Engine Optimization) is crucial for driving traffic. Conduct keyword research to optimize content for search engine ranking.
Another effective strategy is building backlinks by encouraging visitors to share your content on social media and guest posting. While SEO is a gradual approach, it offers long-term benefits for your online business.
Share your content on Social Media Platforms
Social media is an essential marketing strategy with a vast user base. Utilize two to three popular platforms like Twitter, Facebook, TikTok, YouTube, and LinkedIn. Focus on platforms where your target audience is active.
Add social share buttons on your website and form channels or groups to expand your social media audience. Consider paid social media marketing options. Create shareable content on your website to engage with your audience.
Do Email marketing to Get More leads
After SEO and social media, email marketing plays a vital role in marketing strategies. It's a simple and convenient method to set up. Start by building an email list to directly connect with potential customers.
Send emails to notify them about new content or exciting news. Numerous email subscriber and newsletter plugins are available for website integration.
However, monitor open rates for performance, as not everyone appreciates marketing emails.
How to Make Money from Online Fitness Business
When venturing into the realm of online fitness business, it's important to recognize that attaining financial success takes dedication, perseverance, and a long-term perspective. Alongside offering fitness-related products and services, there are several supplementary methods for earning income:
eCommerce Integration: Enhance your revenue streams by incorporating a fully responsive eCommerce website where you can effectively market and sell supplements and fitness goods to a wider audience.
Membership Website: Develop exclusive courses and valuable content that necessitate a subscription for access, leveraging membership plugins to establish a recurring income model.
Affiliate Marketing: Maximize your earning potential by engaging in strategic partnerships and capitalizing on strong search engine optimization (SEO) performance to generate revenue through affiliations. Read our Make Money With Affiliate Marketing guide.
Remember, diversifying your income sources and remaining adaptable are key to flourishing in the dynamic landscape of online fitness business.
Successful Online Fitness Businesses in 2023 (For Inspiration)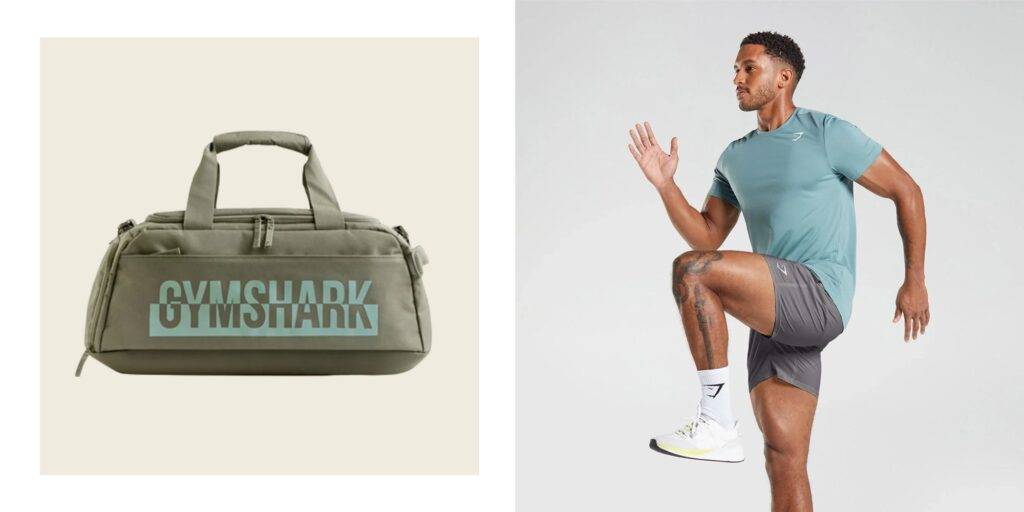 The fitness industry attracts many entrepreneurs who are driven by the challenge of building a successful business and helping others with their health and fitness goals. In this article, we'll explore some highly talented and successful fitness entrepreneurs. If you're considering starting your own fitness business, be sure to gain insights from these experts!
How to Start an Online Fitness Coaching Business
To start an successful online coaching fitness business in 2023, you can follow the steps outlined below:
Decide on your target audience:
Determine the specific types of clients you want to work with online. Identify your niche and find your 1 Percent Uniqueness Factor, which is a unique advantage or specialization that sets you apart from other trainers.
Create training programs:
Develop a template with three or four training phases for each type of client. This will allow you to systematize your business and provide structure to your online training programs.
Build a video library:
When it comes to how to start an online fitness training business, building a fitness training vidoes library is essential. Compile a library of exercise videos that demonstrate the exercises included in your online training programs. This will enhance the experience for your clients and provide visual guidance.
Register for professional software:
Sign up for professional software or platforms designed for online personal training. These tools can help you manage your clients, track progress, and provide a seamless online training experience.
Determine pricing and packages:
Decide on the best pricing model and package options for your online training services. Consider factors such as your target audience, the value you provide, and the market rates.
Create a personal training questionnaire:
Develop a comprehensive questionnaire to gather information about your clients' goals, fitness levels, and any specific limitations or requirements they may have. This will help you tailor your training programs to meet their individual needs.
Set up a payment processing service:
Choose a reliable payment processing service that enables you to securely accept payments from your online clients. This will streamline the payment process and ensure a smooth transaction experience.
FAQs
How can I make money online fitness?
Here are few ways to make money online fitness:
1. Create an online fitness program or training course and sell it to interested individuals.
2. Offer personalized online fitness coaching or training sessions to clients.
3. Start a fitness blog or website and monetize it through affiliate marketing, sponsored content, or advertising.
4. Create and sell fitness-related digital products, such as e-books or workout guides.
5. Develop and sell fitness-related apps or online tools.
6. Become an affiliate marketer for fitness products and earn commissions by promoting them online.
7. Offer online fitness consultations or assessments for a fee.
How to start a fitness business?
To start a successful fitness business, begin by defining your niche and target market. Develop a comprehensive business plan that outlines your goals, services, pricing, and marketing strategies. Obtain the necessary certifications and qualifications for your specific area of expertise.
Choose a suitable location or establish a strong online presence through a website or social media platforms. Acquire the required equipment and insurance to ensure a safe and functional environment. Consider building a qualified team if needed.
Develop a robust marketing strategy to attract clients, and focus on providing exceptional customer service to retain them. Regularly evaluate and adjust your business strategies based on feedback and market trends. Stay updated with industry developments and continue learning to stay ahead.
Remember, starting a fitness business requires passion, hard work, and dedication to helping others achieve their fitness goals.
Is online fitness coaching profitable?
Yes, online fitness coaching can be profitable due to its wider reach, lower overhead costs, scalability, lower marketing costs, and the ability to diversify revenue streams.
How do I start an online fitness app?
To start an online fitness app, define its purpose and target audience, conduct market research, hire a development team or use a no-code app builder, focus on user experience and design, build and test the app, implement security measures, launch and market the app, collect user feedback, iterate based on feedback, and determine a monetization strategy.
Final thoughts
If you're into fitness and have knowledge in the field, starting an online fitness business can be a smart choice. This post explains what an online fitness business is and why it's worth considering. Additionally, it provides step-by-step guidance on getting started, including platform selection, web hosting, domain, theme, and customization. Lastly, it briefly touches on marketing strategies and income generation for your business.